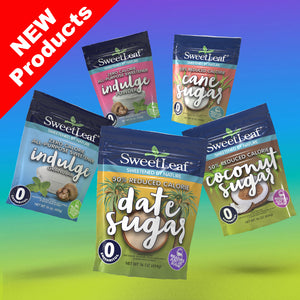 NEW
All-Purpose
Sweeteners
Are Here!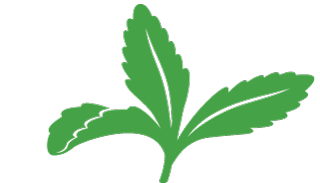 It's time to try Stevia
and Monk Fruit
It's time to say goodbye to processed sugar and HELLO to all-natural sweeteners that taste as good as they make you feel. No more mid-afternoon sugar crashes, monster cravings or energy dips. With SweetLeaf stevia and monk fruit sweeteners, you've got a healthy sugar substitute everyone can feel good about. It's time to turn over a new leaf with SweetLeaf sweeteners.

Jim May "The Father of Stevia"
Founder of SweetLeaf and Wisdom Natural Brands
"May knew there had to be a better way. The stevia plant's natural sweetness had the potential to naturally replace sugar without the calories, glycemic response, and adverse health effects. This year marks 40 years since May brought the plant back to the United States. In the beginning, he imported healthful herbal teas from the Amazon rainforest, including whole leaf stevia (from the stevia plant) and stored them in his garage in Phoenix, Arizona."
READ THE RECENT BLOG
Your Tastebuds
Will Thank You
SweetLeaf® products fit seamlessly into your lifestyle. From daring desserts and tasty toppings to mouthwatering marinades and delicious dinners, you'll find recipes of all kinds to use our stevia and monk fruit products in.
Our Sweet Reviews
I'm on a ketogenic diet, and SweetLeaf is my lifesaver. I use it constantly. I make my own soda with a Soda Stream, and the drops are perfect. I am in love with Vanilla Crème. So versatile. I make a GERD-busting drink with the soda water, my homemade apple cider vinegar, and Vanilla Creme Drops. You have no idea how grateful I am for this natural reflux cure. Your customer service is beyond reproach, and you are one classy business. Thank you.
- Denise P.
First, I just want to say I love your product. Well the honest truth is that I cannot live without it. I took your Sweet Drops with me on my travels through India and Indonesia. And I will never be caught without a bottle in my purse. Thank you, thank you for existing! I have tried many stevia extracts and I have often found myself disappointed by the presence of glycerin or other absurd add-ins and/or a weird aftertaste. You're the best! Again, thank you for your existence I celebrate you daily!
- Tricia
I use SweetLeaf on almost everything. It's not bitter like some I have tried. Try it on your favorite fruit salad, you don't have to use much at all. My grandkids like to put it on their toast. I melt some butter and milk, 2 packs of SweetLeaf, and pour over toast. A winner in our house. Another favorite, take a torta, butter it up, add cinnamon and SweetLeaf®, put in microwave and you have a snack that is good for you and quick – enjoy!
- Susan
My father-in-law has diabetes. It's an Italian family so they bond by eating and show love through cooking. There is no way we would have survived without this product. No weird taste or anything like that.
- Emily H
I love to sprinkle SweetLeaf® on my raspberries with a splash of cream for breakfast.
- James A
As a Southern girl, raised on sweet tea, I have come to love SweetLeaf® Sweetener. It allows me to enjoy tea the way I was raised without the calories of sugar.
- Amy R
Love SweetLeaf®. It is a great flavor, not bitter like some sweeteners. This option has expanded my beverage selections since I usually try and stay away from sugary drinks.
- Becky
It is amazing I'm able to be healthy and still have my coffee in the morning as I am chasing the kids around the house. Thank you, SweetLeaf®!
- Suzanne W
I am not a big fan of sugar or sweetened drinks but, as the years went by (I am now 52 yrs young!) my body craves for a sweetener for my coffee & tea. Upon finding SweetLeaf® in Ukrop's, I have not been able to live without it in my daily coffee & tea! I carry several packets with me in my purse wherever I go so that it is readily there when I want it. Thank you so much for making me "sweeter."
- Denise S
I love sugar. I cannot lie. However, I also value my health and try to live my life by making good choices. Loving sugar makes this hard sometimes…that is until I found SweetLeaf®. I never liked using artificial sweeteners because of their unnatural sources and unknown effects. Now I can use SweetLeaf® sweetener to fulfill my sugar cravings without being worried about the side effects! Thanks!
- Molly
Using SweetLeaf® Stevia helped me lose over 70 pounds by making my tea, coffee, lemonade, yogurt, oatmeal and more sweet and tasty, naturally. No sugar highs, no wild blood sugar swings, just clean delicious taste. With all the exciting flavors, I'm never bored, and with portable packets, I always have SweetLeaf® conveniently at hand. Thanks, SweetLeaf®!
- Sangha S
I have been diagnosed as having Type 2 Diabetes and am changing my lifestyle for the better and including a healthier outlook on eating – which includes cutting out unwanted calories in all areas. The SweetLeaf® sweetener has made a huge difference in my eating habits – it has allowed me to enjoy my foods with the addition of the sweetener and not notice a difference in taste at all! This helps me keep my sugar levels on an even keel and is helping with weight loss – all without having to be at the expense of good taste!
- Angie
(Review on SteviaClear® Liquid): Love it, great value, no aftertaste!!!
- Paula M.
(Review on SteviaClear® Liquid): I have used other brands in the last 5 years, SweetLeaf® is the best! The 4oz. is a better deal b/c I use it daily, no need for sugar!
- Erina S.
(Review on SteviaClear® Liquid): This is by far the best stevia product out there in my opinion. I have tried powder and other liquid stevias that I bought at local stores. However, none of them came close to the quality of this company. Not even close! This stevia liquid lasts a long time (1.5 year – 6 mths), and it helped me get off sugar almost totally at one point in time.
- Anonymous
(Review on SteviaClear® Liquid): I carry this stevia everywhere with me. I use it in coffee, tea, plain yogurt, and almost anything else that needs a kick of sweetness. It is fantastic!
- Tara B.
(Review on SteviaClear® Liquid): Stevia Clear has no aftertaste, unlike some powdered stevias, also a bottle lasts me a year or two–very good in tea, coffee, good sugar replacement in plain yogurt, sweetens without the carbs, calories and less costly to buy plain yogurt and sweeten it yourself.
- Anonymous
(Review on SteviaClear® Liquid): I drink a lot of tea (sweetened that is) and wanted a sweetener that wasn't artificial. I have been using this brand for a while now and really like it. I keep a bottle in my purse for when I go out to eat, and just love it! I even use it to sweeten cereal, oatmeal, other drinks, etc. I have tried other sweeteners and I found this one to be the best tasting. Fantastic product!!
- Jockey F.
While looking for a natural sweetener option, I came across your product at my local Publix. I enjoy your product because I have found that it's one of the VERY few (if not the only) sweetener on the market that includes ONLY natural ingredients AND is a quality product with excellent taste. Since I've found SweetLeaf® Stevia, it's now the only sweetener that I'll purchase. Thank you again for a superior product.
- Michelle
SWEETLEAF
Can't find SweetLeaf in your store? Have a great Idea? Want to just chat with us about Stevia?
Contact as us at info@wisdomnaturalbrands.com